YOU WON'T SEE THERMAL PRINTERS AS BEFORE
A unique bird design.
It speeds up most portable printers.
It takes you into a new dimension with its print quality.
You can connect it to your smartphone and tablet.
It's more than just a printer.
It's Poooli.
Poooli Pocket Printer
Discover The New Generation of Thermal Printer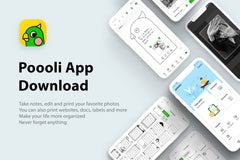 Try Poooli App Now !
Take notes, edit and print your favorite photos. You can also print websites, docs labes and more. Make you life more organized. Never forget anything
SHOW MORE